Welcome to Science Fiction Pulp Magazines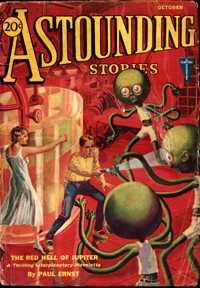 Lots of great old Pulps from the 1930's-1940's.All are scanned and owned by me.I have long collected and read science fiction.Many great authors had their start in these magazines.Check em out.this is cool stuff here.These magazines have played an important contribution to the Science Fiction you read and see now.Also many stories have foretold scientific advances we now see everyday.Microwave ovens,radios,tv,etc.I will expand this gallery with more stuff.Rare paperbacks and Hardbacks as well.You would be surprised how many literary giants all got their start in these kind of magazines.
New Galleries Of Pulps
These galleries are of pulps,etc that are in my library.I have used some cover art from the Internet as I got a little lazy scanning this amount of stuff.There are over 150 pulps here and they are all at higher resolution than my older galleries.Check these out you will love Pulp Art.It took me years to be able to find and buy all these magazines.I still have many more to scan.And I must make us some galleries of my rare vintage science fiction paperbacks as I own around 800 - 1000 paperbacks.
THRILLING WONDER STORIES ALSO WONDER STORIES
SMALLER RUN PULPS ALSO AVON FANTASY READER
NEW Ace Paperbacks D & F Series (377 books)
Here are all of my older galleries.The images are smaller but the content is cool.