BOSTON ROCK SCENE 1977 - 1979
In Memory Of Dave "Hard Korp" Koehler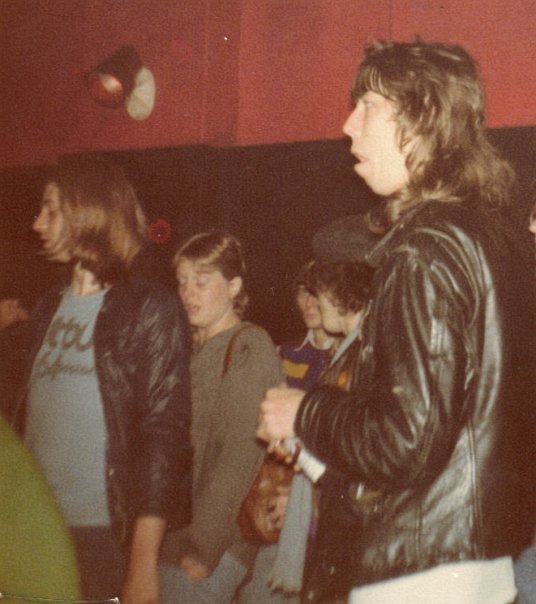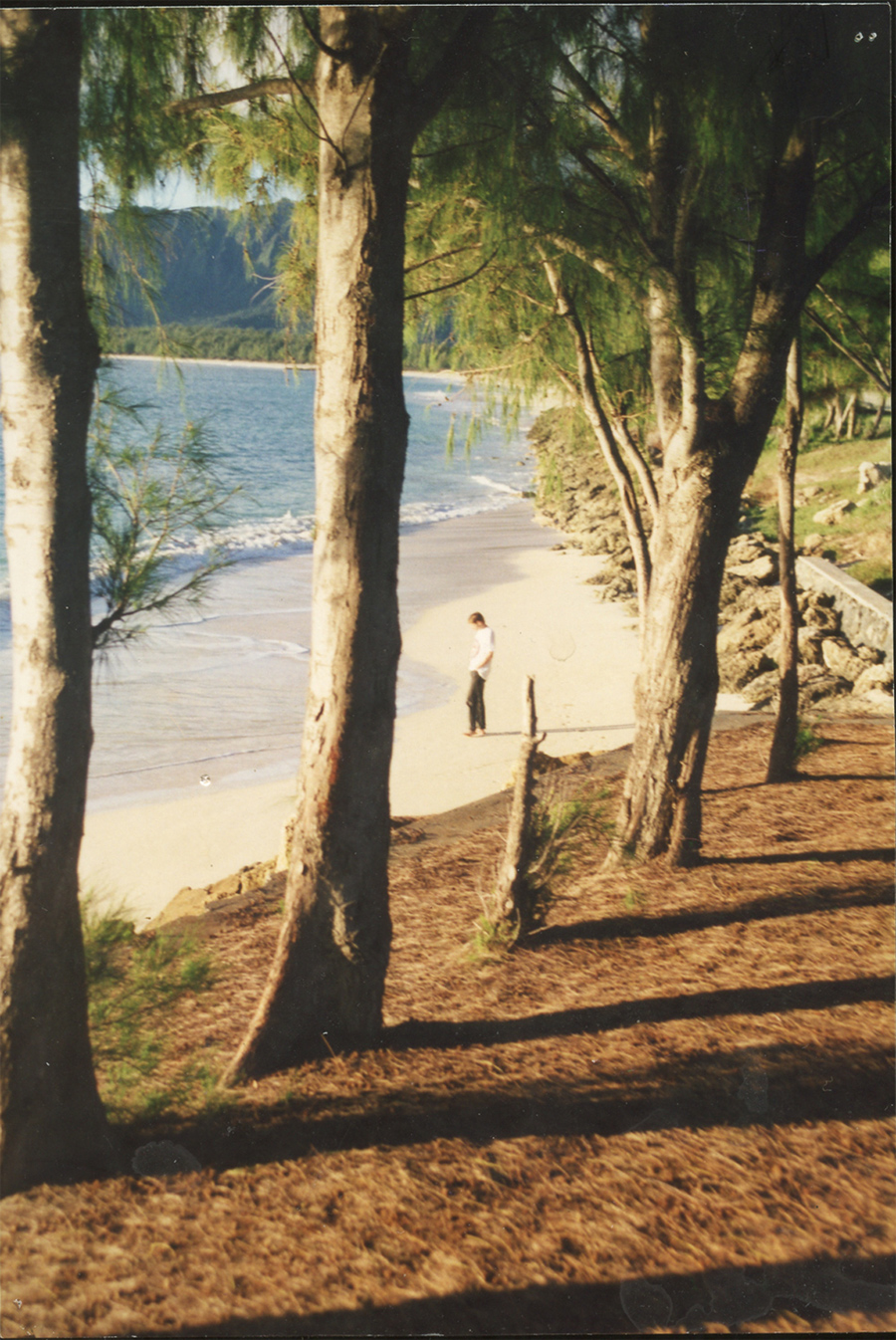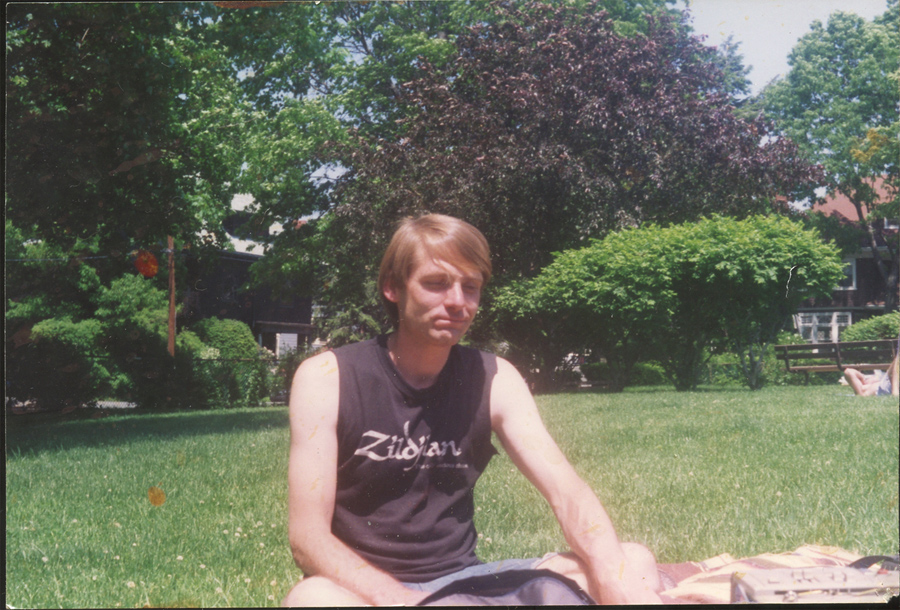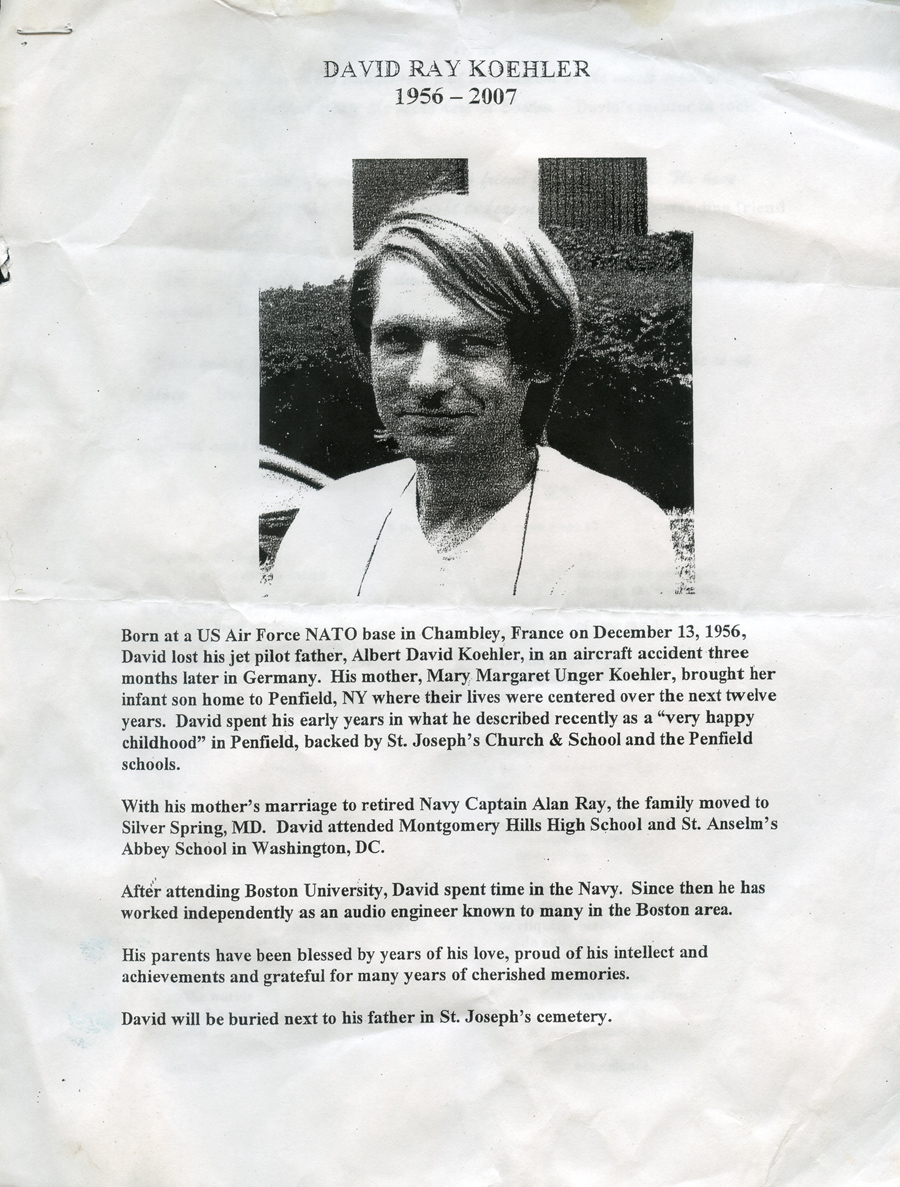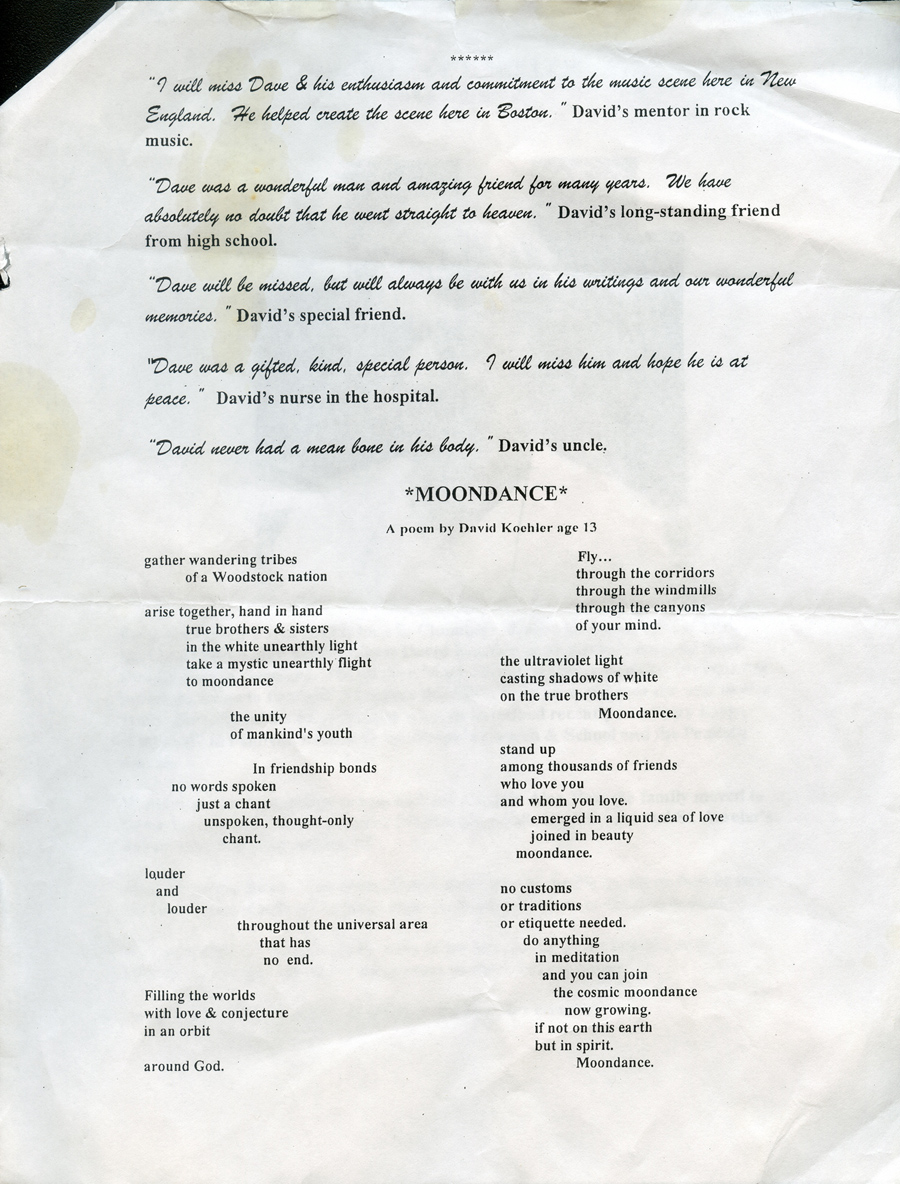 "Dave Hard Korp, Oedipus and Gary Cook of The Infliktors at the Bird Cage in Boston's Combat Zone for the Girls and Human Sexual Response gig Oct. 16, 1977. Photo by Dee Ranged"
Here you will find various recordings which Dave had done with his TEAC 4 Track, TEAC PC-10 Cassette Deck, and other things which Dave had created.I am also looking for pictures of Dave and pictures of any of the bands playing on these reels.
I would also ask for Bio's on the Bands too.If any of the musician's do not want their music here you can reach me thru FB or thru my email of jordan@maine.rr.xxx xxx = com of course.
FB Contact = https://www.facebook.com/jordan.kratz
Anything not working shoot me a message.Once again if a band does not want any stuff here shoot me a message and I will take it down.And if a band wants to put stuff here I am totally cool with that and will host whatever you need.If any of these ask for a password please use "punkpal" .

I have long wanted to do something like this as I wanted to allow the World to hear the Scene we all were a part of........the MOST AWESOME BOSTON ROCKIN' SCENE ! All of us had a blast in the old scene.Lots of great shows and great bands.The old Clubs like The Rat, Cantones, The Space,The Birdcage (HAR HAR HAR) !!! AWESOME TIMES !
It is way past time we had a site where we put up Historical Boston Audio,Videos,Pictures, etc.Old Scenesters can relive your rebelious youthful Days and newbies discover the great and fun scene we all were a part of.
ENJOY IT PEOPLE ! And Remember this my friends:
PUNKS NOT DEAD !!! Question Authority !!! Down With The Establishment !
Tech Tips & Tricks
I have the following tips and info for you on the Audio being posted here as I am an Audio Tech Person.First of all the Audio posted here is on the levelof Blu-Ray Audio.It is all 24BIT with 96k Sampling Rate.This is high definition Audio as CD Audio is only 16BIT with 44.1k Sampling.With these you will be able to make CD's, Make any kind of lossy mp3 etc audio, or listen to this as meant in high definition sound.There is a lot of info easily found on this subject.The FORMAT IS FLAC.Flac is lossless audio equals the source audio so the best sound I can give.
If you need help to play these on a Computer use VLC MEDIA PLAYER.Works with all operating systems and is open source.
If you are on Windows and want an excellent Music Library program way better than iTunes trash is foobar2000 with the Dark One Mod/Skin.Plays nearly anything........also a lot of plugins to extend to doing even more.TOP NOTCH.
This is your TECH SUPPORT.I give out no more.use google or ask a friend please.

WE NEED MORE STUFF ! OPEN YER ARCHIVES !
One thing we need here is more photos of Dave and of the old Scene.Also we could use some good Bios.If you play in one of the Bands please write me a Bio and I will put it here for you.I thank all of you in advance.
VERY EASY TO GRAB FILES & PLAY THEM
NOTE: Grab the files I put by the tapes...you will need all the parts.You will get a zip archive which is easy to work with.Save files to your hard drive and then open the archive up.Very simple and easy for you to do.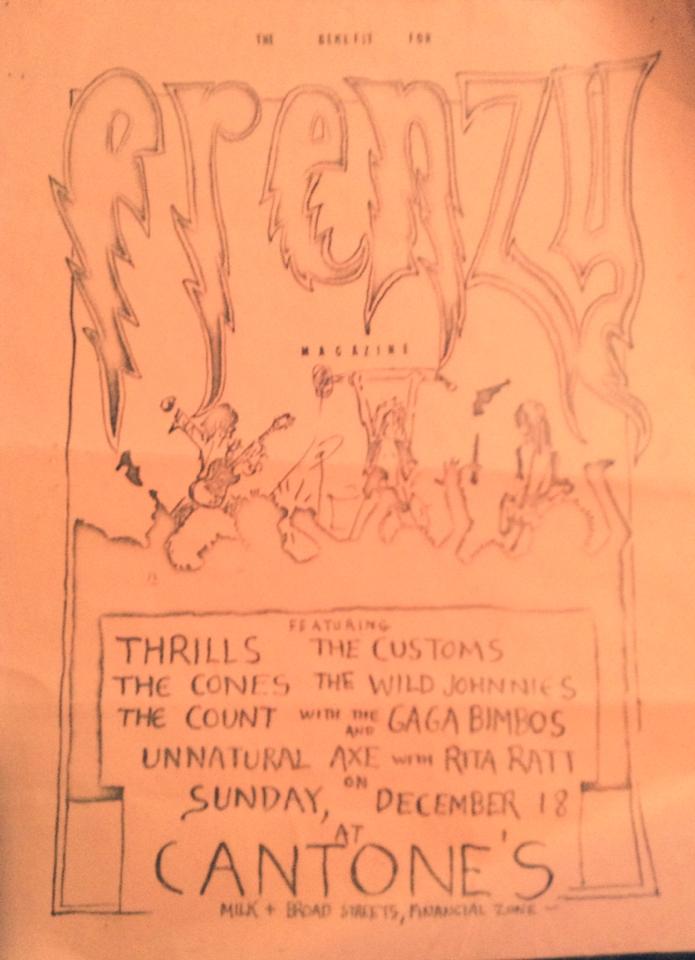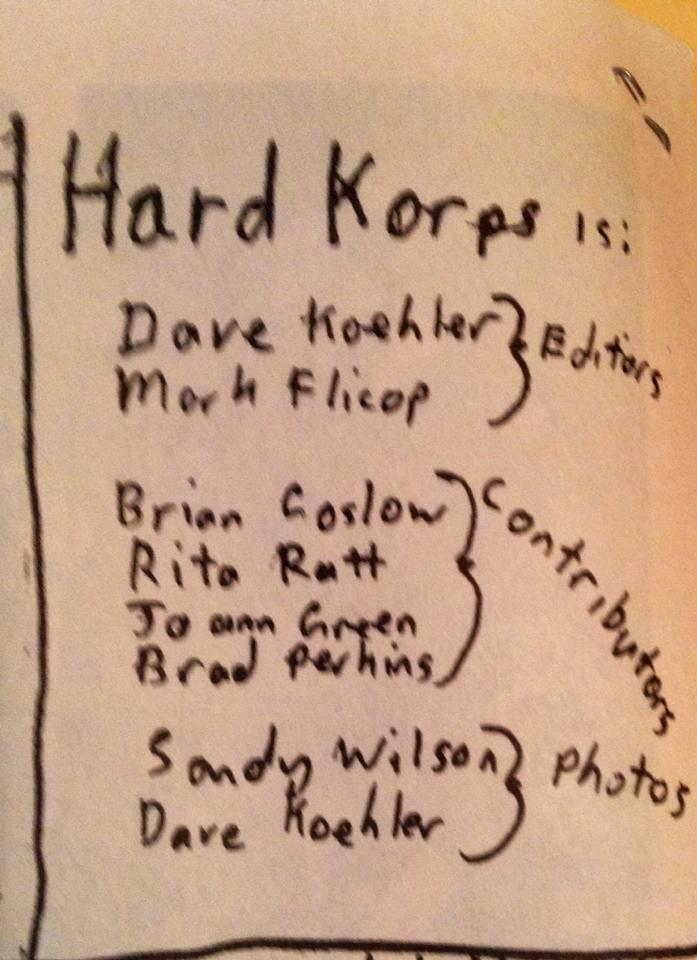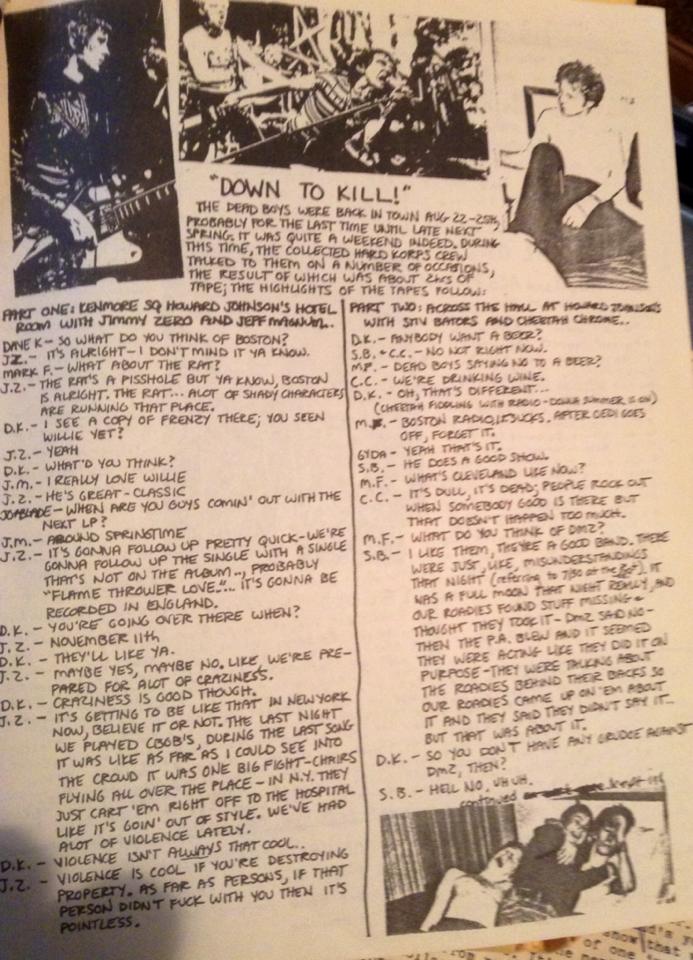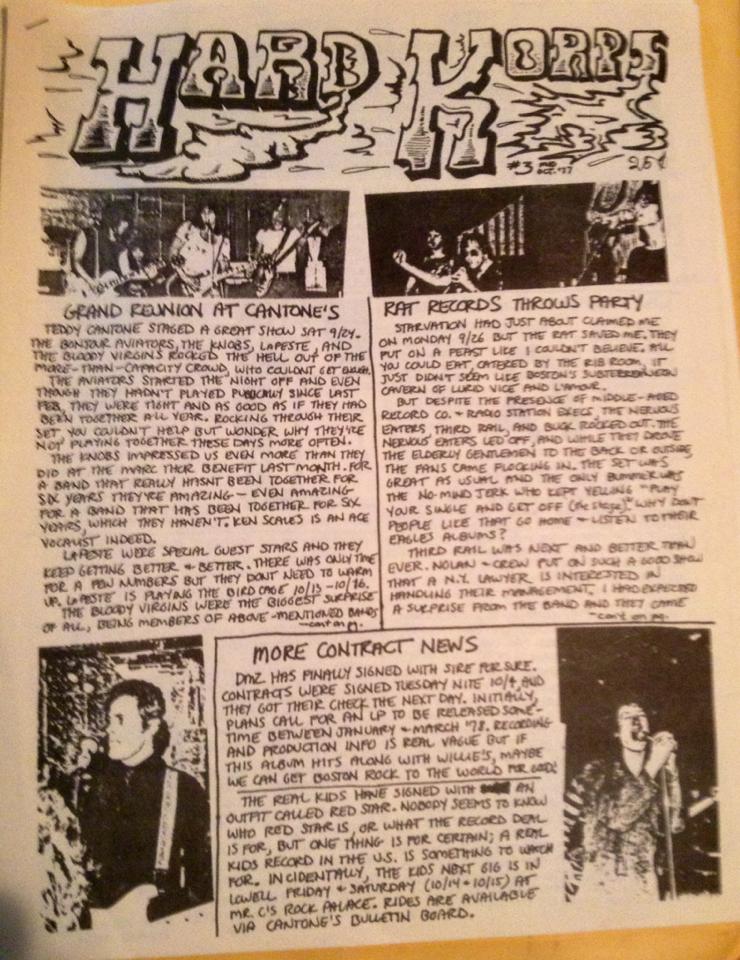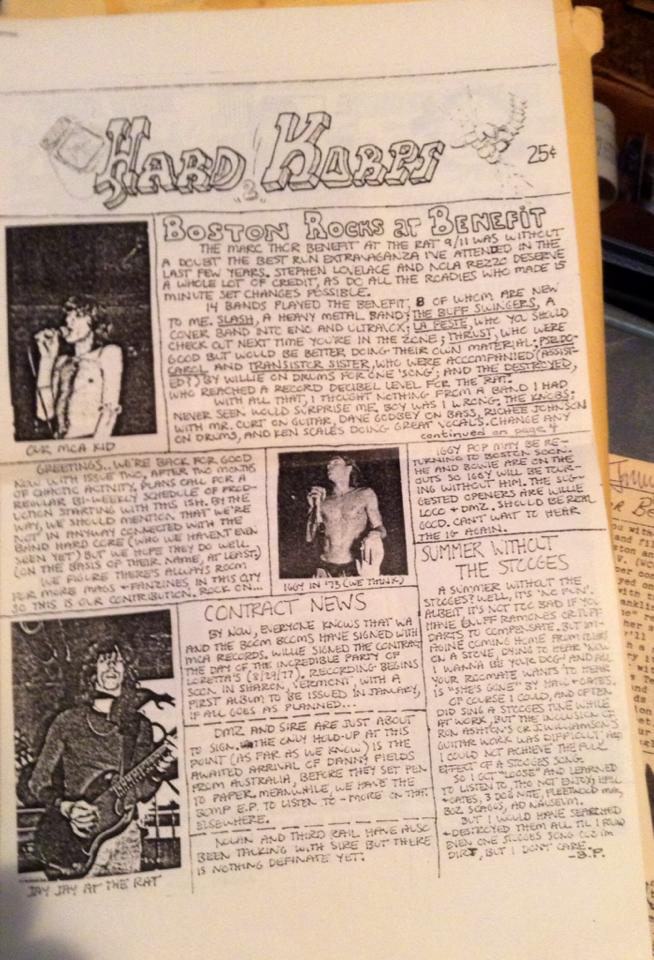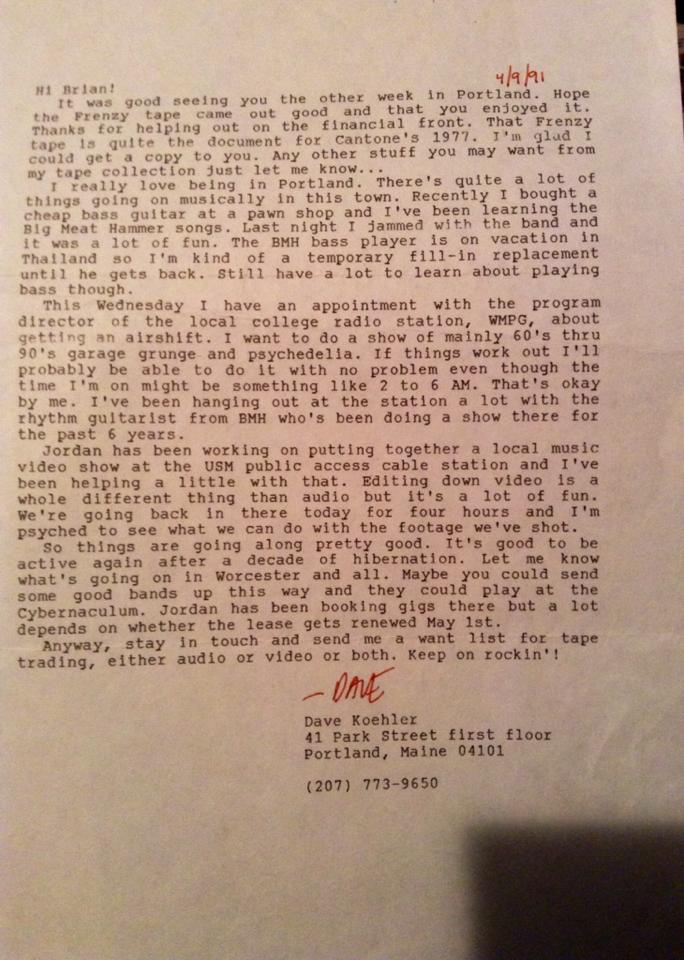 Punk Rock Nights In Boston (Comp made with 1st press vinyls and original Master 4 tracks newly remixed)
A huge share with tons of bands.Share it freely and help to promote the great Boston Music Scene.Try to buy releases from the Artists.

This whole compilation is only from 1st press vinyl records or the actual master 4 track reel to reels were used.I have mixed down every reel to reel in my possession with modern studio gear so you get nice sweet fresh mixed 1970's recorded reel to reels.There is some very rare and expensive vinyls used.
Queers Dohenny sold for $900 before.The Molls is on discogs for $450 .Unnatural Axe EP is also a $400 EP.
Real Kids first demo recordings which were done before they were on vinyl.Tons of rare stuff is here.
Live Stuff, Unreleased Demos, and vinyl released.
You may freely share this anywhere you want to.Promote Boston Punk Rock.6 Gigs of 24bit /96k good sounding Audio.If any of the Artists want their music removed please contact me and it will be done.

Instructions.Use the MEGA LINK BELOW.Download to your hard drive all the files there.Once you get all the files you can then open up the ZIP Archive.
https://mega.nz/#F!V5RimaZQ
!3JyK36Bcq6SJByOVncUx3w
Baby's Arm
Bimbos
Bonjour Aviators
Classic Ruins
Count Viglioni
DMZ
Decadence
FU's
Gang Green
The Girls
Ground Zero
Hopelessly Obscure
Human Sexual Response
Jerry's Kids
Johnny & The JUmper Cables
Kilslug
LaPeste
Last Stand
Lou Miami & The KOzmetic
Lyres
Marc Thor
Mission Of Burma
Modern Lovers
The Molls
Moving Parts
Neighborhoods
Nervous Eaters
Pastiche
Proletariat
psycho
Queers
Real Kids
Reddy Teddy
The Rentals
Slash
Slow Children
Space Negroes
The Customs
The Freeze
GG Allin No Rules EP (very rare,hard to find,Orange Records)
The GRoinoids
The Infliktors
The Rings
The Transplants
The Underachievers
Thrills (Merle Allin played bass guitar)
Thundertrain
Tracks
Turbines
Unnatural Axe
Willie Loco Alexander
DAVE'S REEL TO REELS HERE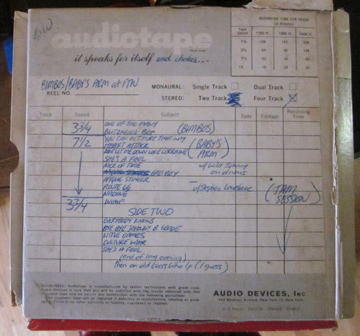 Baby's Arm at Fuck The World Benefit 3.78 Cantones
baby-ftw378.zip baby-ftw378.z01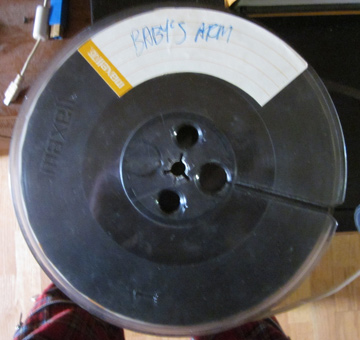 Baby's Arm Live At Shriver Benefit 2.5.78 The Club
baby-shriver.zip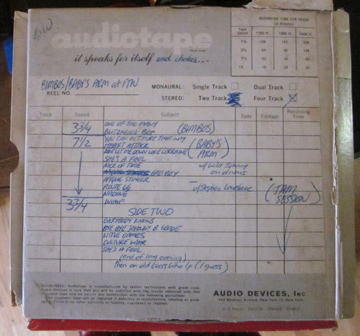 Bimbos (2 Songs on reel) Fuck The World Benefit 3.78 Cantones
bimbo-2song.zip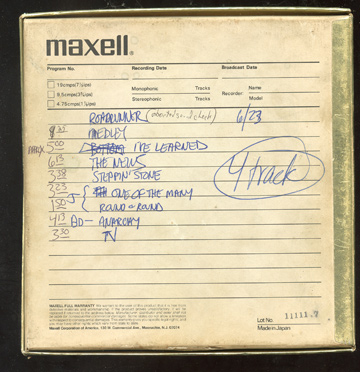 Bimbos 4 Track Recording Sessions 6.23.1978 Reel One
bimbos-4-Track.zip bimbos-4-Track.z01
bimbos-4-Track.z02 bimbos-4-Track.z03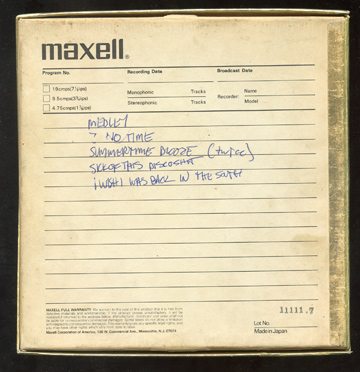 Bimbos 4 Track Recording Sessions 6.23.1978 Reel Two
Reel Two is included with the above Reel One link so no link needed here.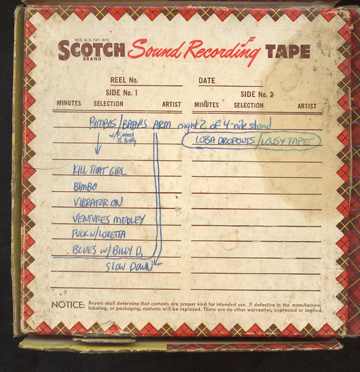 Bimbos From 2 of 4 night reel to reel tape
bimbo24.zip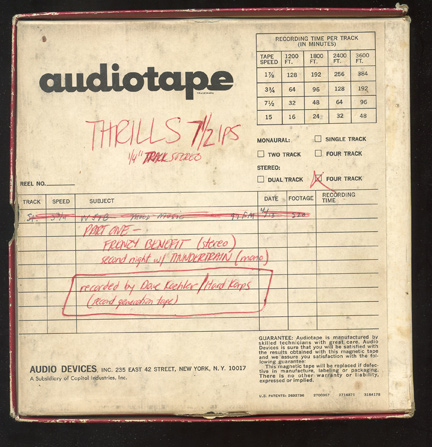 Bimbos Live At Frenzy Benefit 12.18.77 Cantones 1
bimbo-frenzy.zip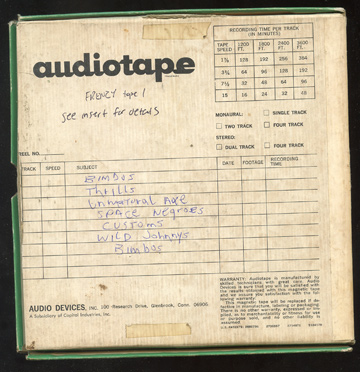 Bimbos Live At Frenzy Benefit 12.18.77 Cantones 2
bimbo-frenzy01.zip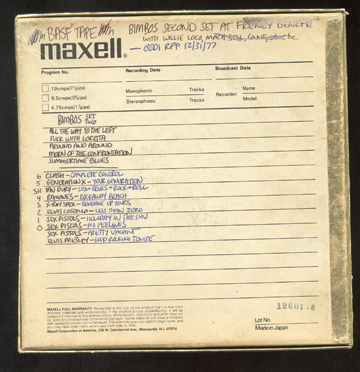 Bimbos Live At Frenzy Benefit 12.18.77 Cantones 3
bimbo-frenzy02.zip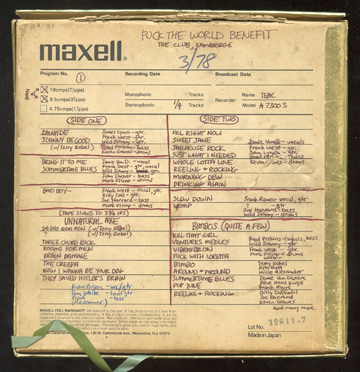 Bimbos Live At Fuck The World Benefit 3.78 Cantones
bimbo-ftw.zip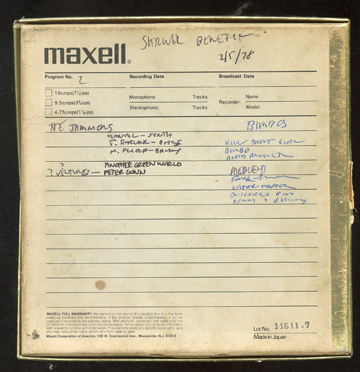 Bimbos Live At Shriver Benefit 2.5.78 The Club
bimbo-shriver.zip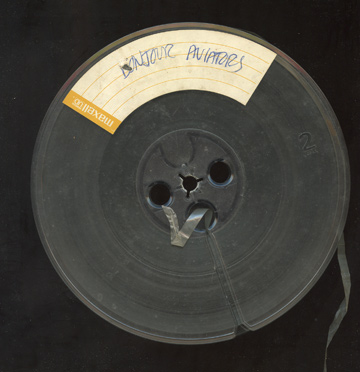 Bonjour Aviators Live At Shriver Benefit 2.5.78 The Club
bonjour.zip
Bonjour Aviators - Fury In My Eyes Single and Bonus Song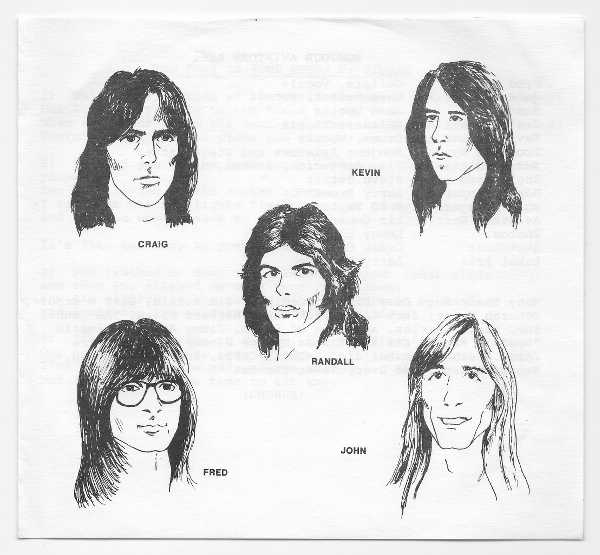 bonjour2.zip

Bonjour Aviators Bio from Fred Pineau

The Bonjour Aviators track is titled "I Wanna Go To A Party", and it was written and sung by Kim Preston, who was obviously in the Aviators Bonjour Aviators were: Kim Preston: Guitar, keyboards, & vocals John Shriver: Bass guitar, vocals Kevin Graves: Drums (Kevin was one of the drummers for Blue Cheer) Fred Pineau: Guitar, vocals Kim and I wrote the songs, and toward the end of the band we did a song written by John Shriver as well. I put the band together in 1975. Kevin and John lived a few streets over from me in Brookline, Ma. I can't remember how I met Kim, but someone hooked us up and he fit right in. I believe that Kim had come to Boston to go to college. Kim was also one of two black men in rocks bands in Boston at that time, the other being Jon Butcher. We slogged along as there were almost no clubs in Boston that would book original bands at that time. I wrote "Boston City Limits" in 1973 as a response to the fact that club patrons all seemed to want to hear "Colour My World" and songs of that ilk rather than original Rock & Roll. I never should have recorded that song as the scene had changed at that point, but it's 20/20 hindsight at this point. Kim grew up in NYC, and one of his best friends was Richard Lloyd of Television. Richard told us about two NY clubs that were booking original bands, CBGB's and Max's Kansas City. He was good enough to get us gigs in both clubs beginning in 1975, and we were, I believe, he first Boston band to play those rooms. We were constantly going back and forth to NYC, staying at either the Chelsea Hotel or in Terry Ork's loft - He was the manager of Television. When we stayed at Terry's loft, I would wake up every morning to a life size poster on the wall in front of the mattress that I was sleeping on of Iggy Pop, naked and full frontal. I so needed coffee after that......Once we were there in the middle of the winter, and it was freezing! Terry hadn't paid the heating bill, so there was no heat in the loft. It had a fireplace, so we broke up every stick of furniture in the place and burned it to stay warm. It ended with us tearing the fireplace mantel off the wall, breaking it up, and burning it. We played with Talking Heads, Television, Tuff Darts, The Dead Boys, and many others when the NY scene was just getting going. Hilly Crystal was a gas, and it was a who's who of rock hanging out every night, from members of The Ramones to David Johansson to all of Blondie, etc., etc., etc.. I met John Cale at Max's - I was a huge Velvets fan, and he was a total asshole. I told him to fuck off. He didn't care. We did a 4 track basement recording of 4 of our songs that's been lost to the ages. I wish that I could lay my hands on it. Finally, The Rat and The Club opened and the Boston scene exploded. We brought Johnny Thunders & The Heartbreakers up to The Rat for a Friday and Saturday. Just Bonjour Aviators and them for both nights. It was a huge success and should have been the launching point for The Aviators. But we had personnel issues, and we parted company with Kim at the end of the second night. It was a huge mistake for both Kim and the rest of us as the band was never the same after that. The chemistry had been destroyed. We reformed with a second guitarist, Craig Covner, and a lead singer, Randall. We recorded the 45, and "The Fury In Your Eyes" got respectable airplay and was on The Rat's juke box. The band finally broke up about a year after the split with Kim. Our final show was at Dummy's on Commonwealth Ave., which later became The Paradise. Well, that's all that I can remember now! I'll fill in more as I remember it... Thanks again, Fred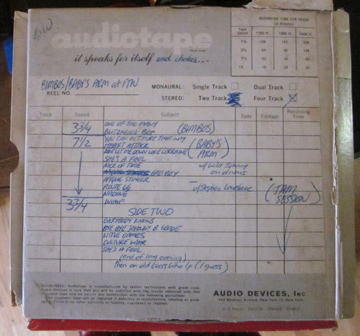 Fuck The World Benefit 3.78 Cantones Side 1 Various Jams
ftw-s1-various.zip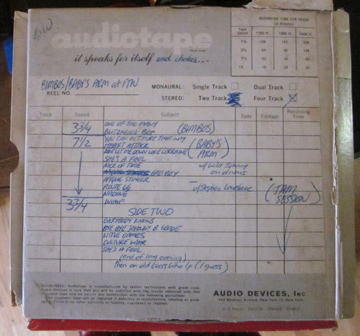 Fuck The World Benefit 3.78 Cantones Side 1 Various Jams Continued
ftw-jams-cont-s1.zip ftw-jams-cont-s1.z01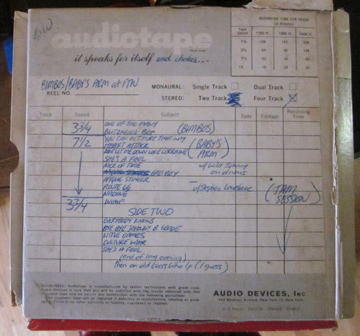 Fuck The World Benefit Jam Session 3.78 Cantones Side 2 of Reel
ftw-s2.zip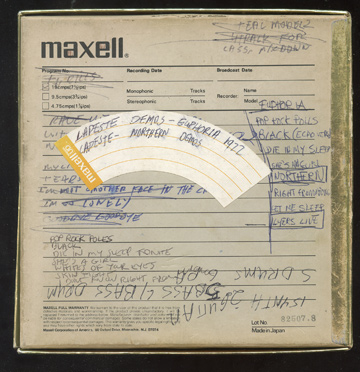 LaPeste Euphoria
la-euphor.zip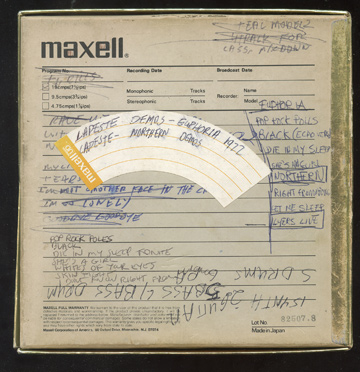 LaPeste Live at Cantones NYE 1979
la-ne79.zip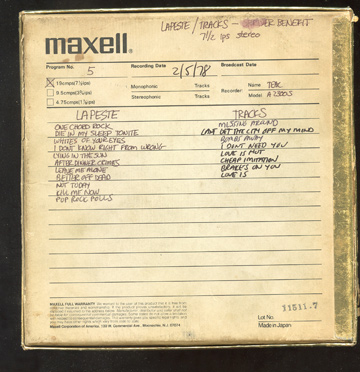 LaPeste Live At Shriver Benefit 2.5.78 The Club
la-shriver.zip la-shriver.z01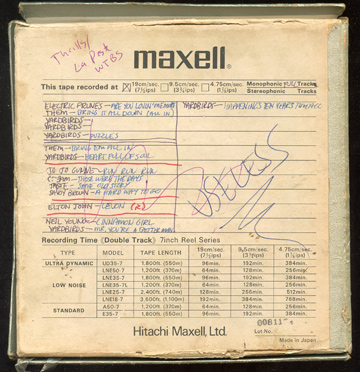 LaPeste Live WTBS 1978
la-wtbs78.zip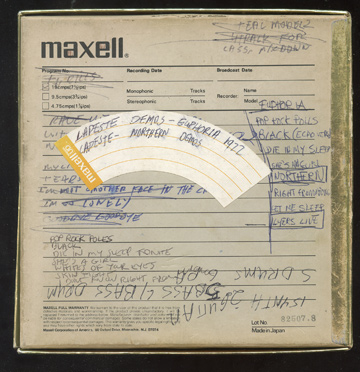 Lyres at Cantones NYE 1979
lyres-ne79.zip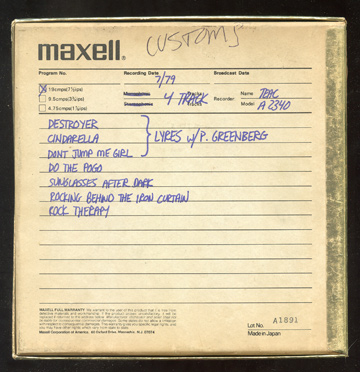 Lyres The Space July 1979
lyres-space79.zip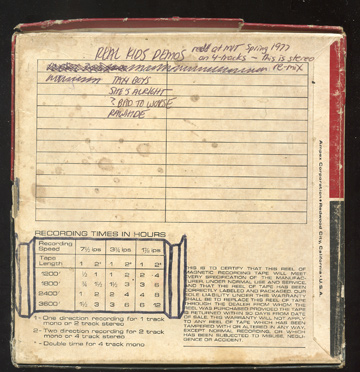 Real Kids 4 Song Original Demo Tape Spring 1977 Stereo Remix Master
real4.zip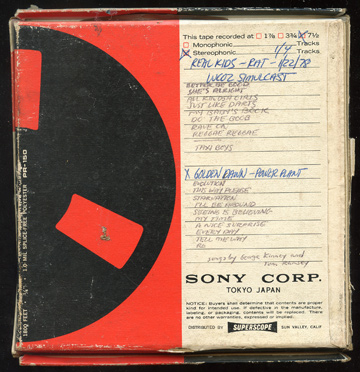 Real Kids Live at The Rat 1.22.1978 WCOZ Simulcast
real-rat.zip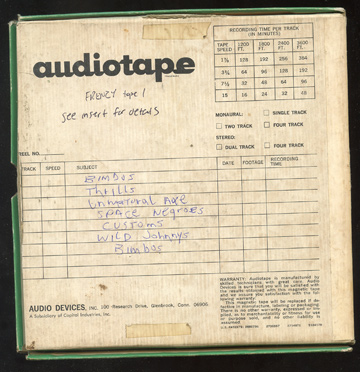 Space Negroes Live At Frenzy Benefit 12.18.77 Cantones
space.zip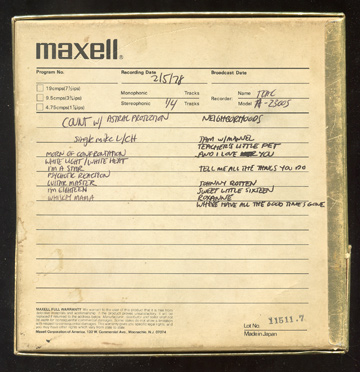 The Count with Astral Projection Live At Shriver Benefit 2.5.78 The Club Mono
count.zip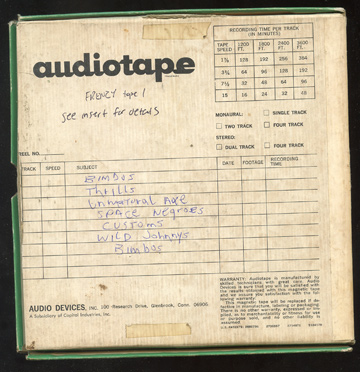 The Customs Live At Frenzy Benefit 12.18.77 Cantones
customs-frenzy.zip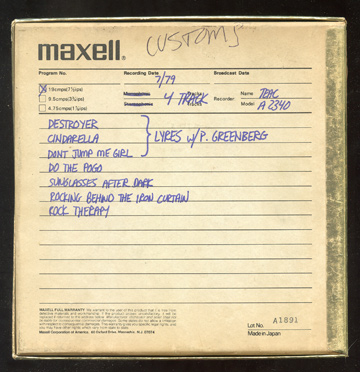 The Customs Space July 1979
customs-space.zip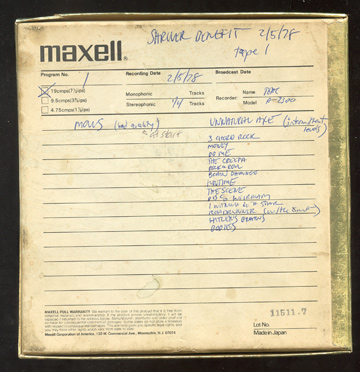 The Molls Live At Shriver Benefit 2.5.78 The Club
molls.zip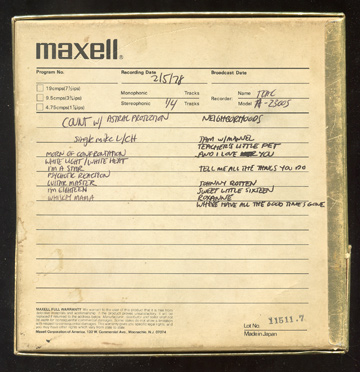 The Neighborhoods Live At Shriver Benefit 2.5.78 The Club
hoods78.zip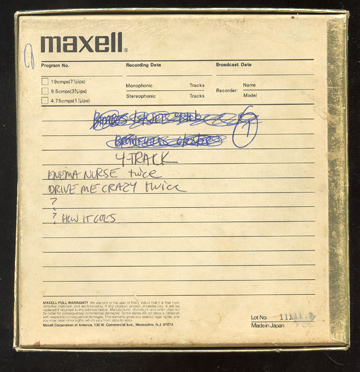 The Wrings Demo Tape from 1977
wrings.zip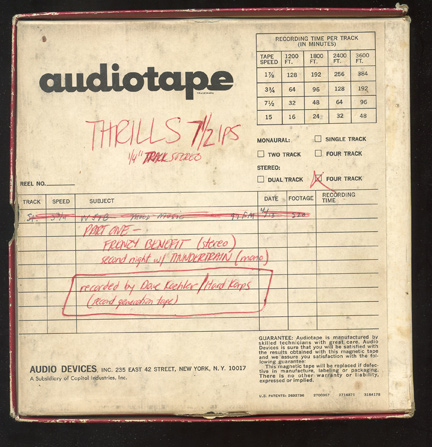 Thrills Live At Frenzy Benefit 12.18.77 Cantones
thrills-frenzy01.zip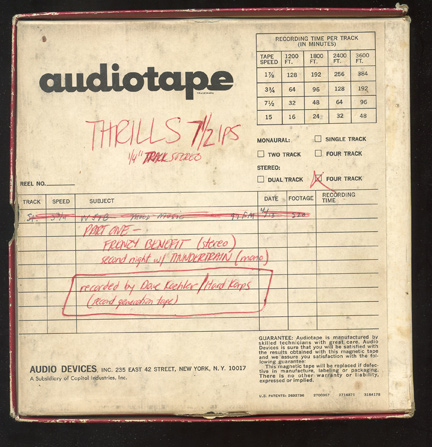 Thrills Live At Frenzy Benefit 12.18.77 Cantones 2nd Reel
thrills-frenzy02.zip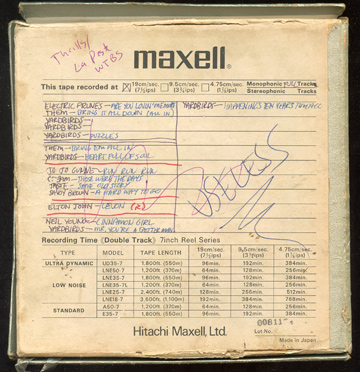 Thrills Live on WTBS Mono
thrills-wtbs78.zip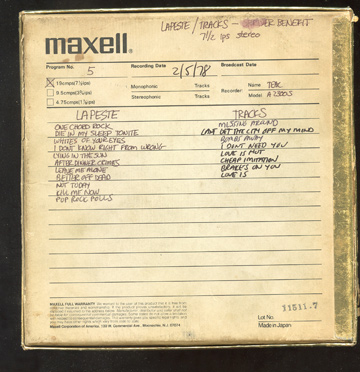 Tracks Live At Shriver Benefit 2.5.78 The Club
tracks.zip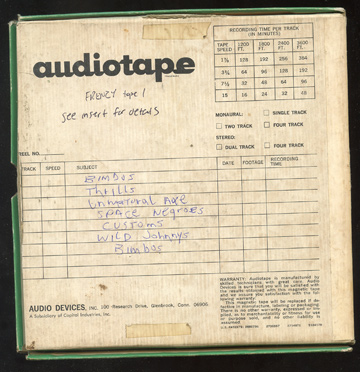 Unnatural Axe Live At Frenzy Benefit 12.18.77 Cantones
ua-frenzy.zip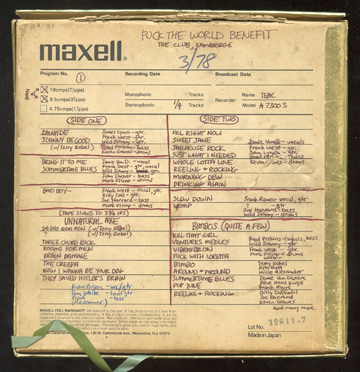 Unnatural Axe Live At Fuck The World Benefit 3.78 Cantones
ua-ftw.zip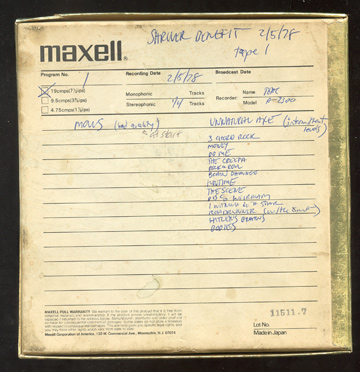 Unnatural Axe Live At Shriver Benefit 2.5.78 The Club
ua-shriver.zip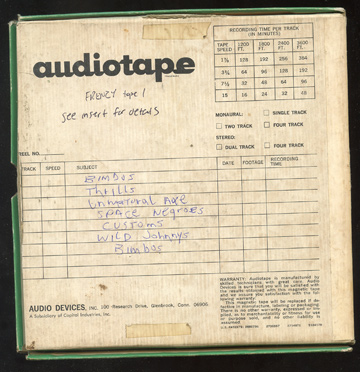 Wild Johnnies Live At Frenzy Benefit 12.18.77 Cantones
wild.zip
DAVE'S CASSETTE TAPES HERE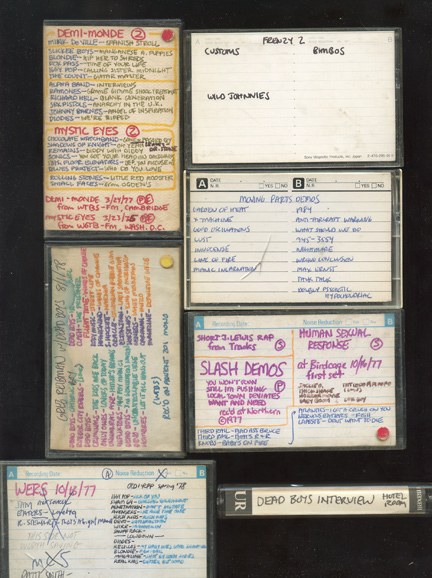 Deadboys Hotel Room Interview 1977
dead.zip dead.z01
Demi-Monde Radio Free Punk Chart Spring 1978 Oedipus on WTBS
demi-rfp.zip
Demi-Monde Show with Oedipus 3_24_77
demi377.zip demi377.z01
Greg Reibman with The Deadboys on WTBS 8.1.1978
greg.zip

Moving Parts - 16 Selections Original Demo Cassette
moving.zip moving.z01

Mystic Eyes Radio Show Wash. DC 3.23.1975
mystic.zip mystic.z01

Slash,Human Sexual Response,John Lewis Tape
slash.zip slash.z01

JORDAN'S REELS & CASSETTES HERE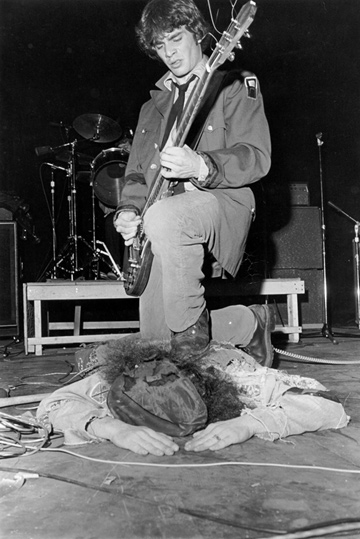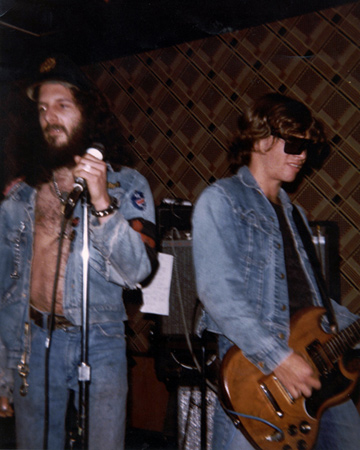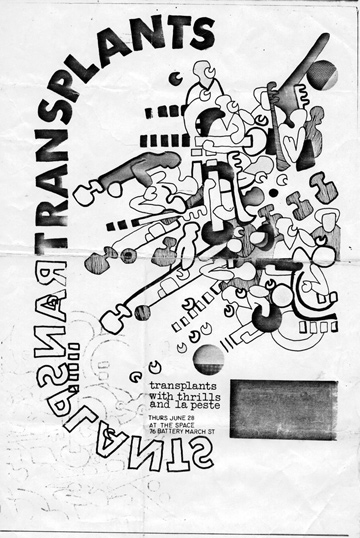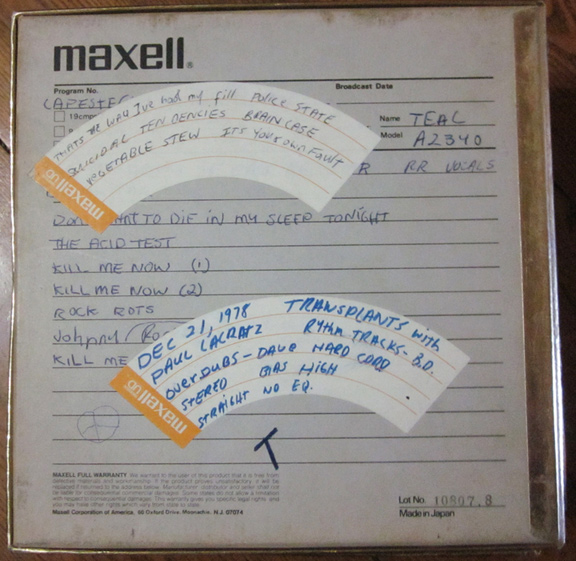 The Transplants Live at the Lynn Loft and Marblehead Fall to Dec.1978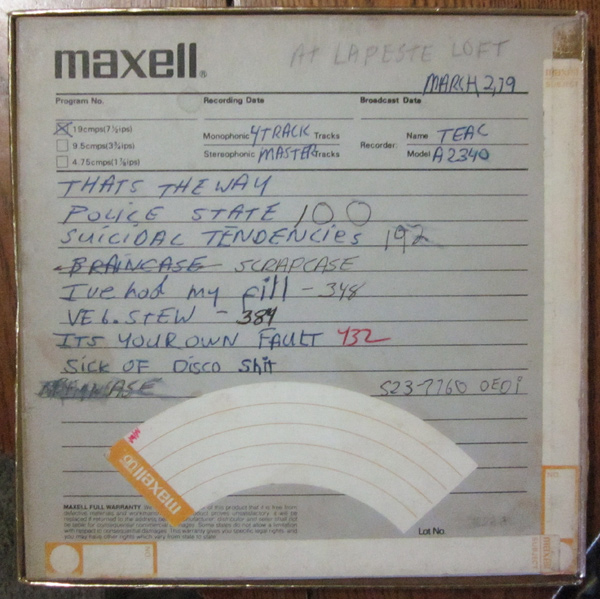 The Transplants Live at the Lynn Loft and Marblehead Jan-Mar 1979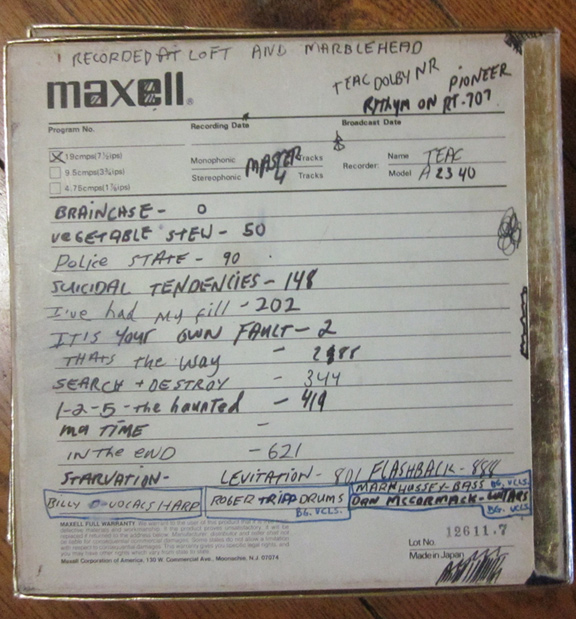 The Transplants 5/79 LaPeste Loft Recordings HD Audio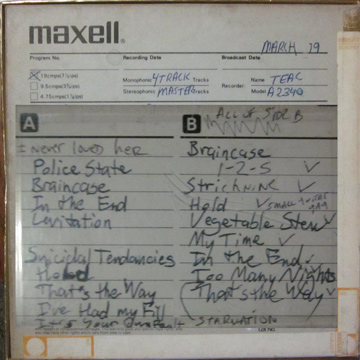 The Transplants Live at the Space June 1979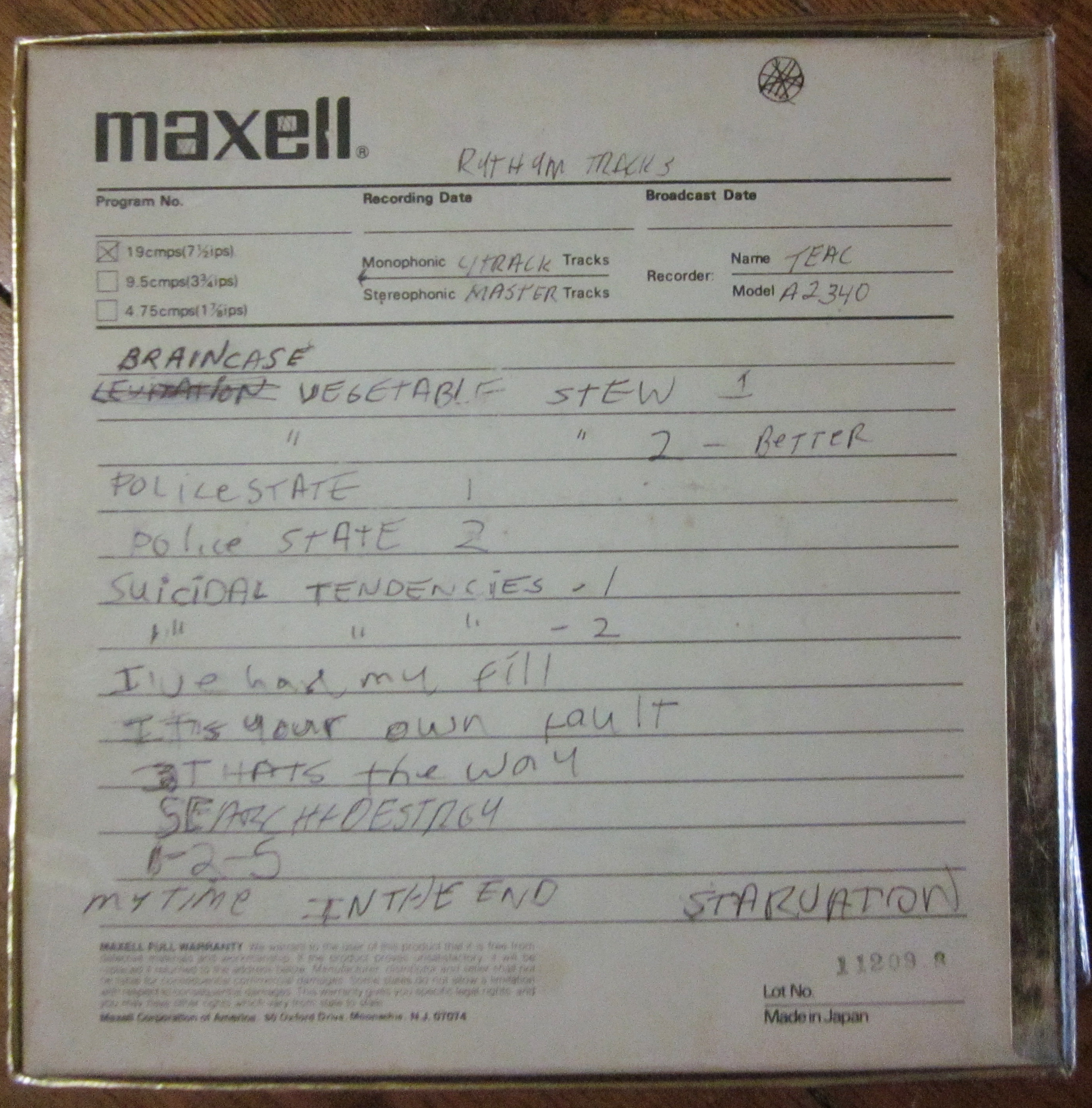 And here we have a brand new thing I have done.Basically I took a reel which was labeled Rhythm Tracks May 1979 and I took the above reel for the May 1979 DIY Studio Project and married the two together like this:
Track 1 - Left Drums, Track 2 - Right Drums, Track 3 - Rhythm Guitar,Track 4 - Bass,Track 5 - Lead/Rhythm Overdub, Track 6 - Vocals.
The two tapes were running at slightly different speed and not timecoded so this has been 4-6 weeks of work to sync together.Should be done now and it sounds really good.I hear everything from kick drum to the crispy cymbals.
HERE: The New 6 Track Expanded Re-Mix for the DIY Studio PRoject with Roger Tripp at the LaPeste Loft May 1979.
The Expanded 6 Track Remix at HD 24bit/ 96k FLAC Here 6-Track Part 1 6-Track Part 2
The Expanded 6 Track Remix at HD 16bit/ 44.1k FLAC Here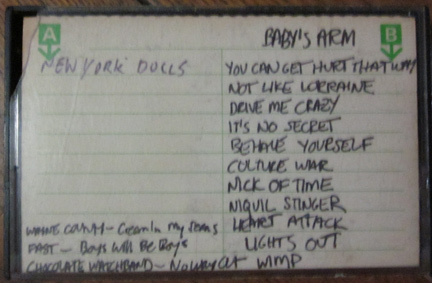 Baby's Arm Live Cantones 1978
baby_cant78.zip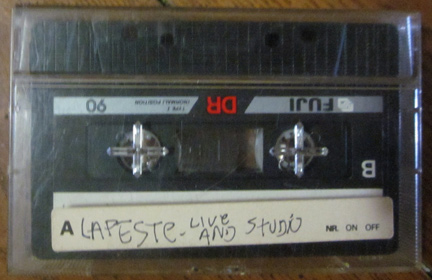 LaPeste Live Cantones 1978
la-cant-fall78.zip la-cant-fall78.z01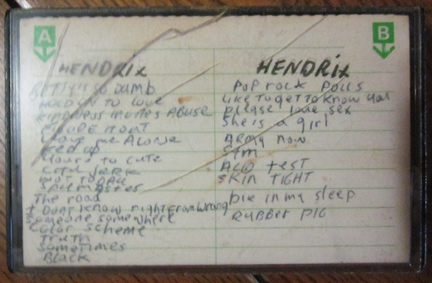 LaPeste Live At The Space
la-space.zip la-space.z01 la-space.z02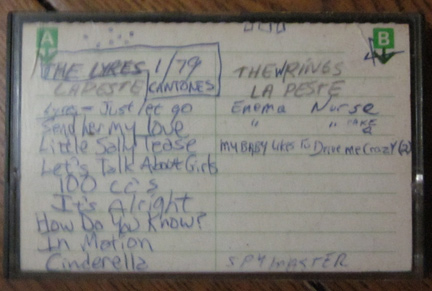 LaPeste 4 Track DIY Recordings From Chauncey Street Loft
la-studio.zip la-studio.z01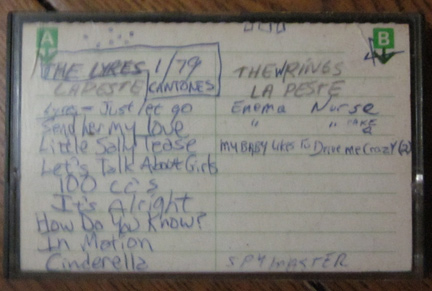 LaPeste Live On WMBR
laWMBR.zip laWMBR.z01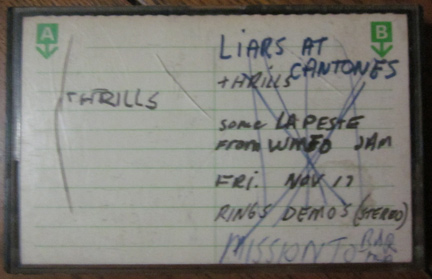 Thrills Live At Cantones Fall 1978
thrills-cant-78.zip thrills-cant-78.z01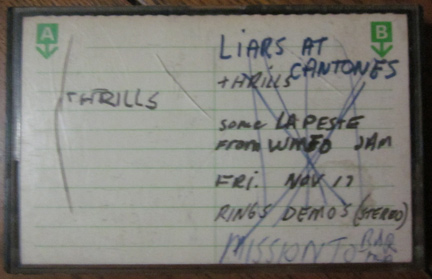 Thrills Live At The Rat 1978 (16BIT CD Audio,Older Transfer,great show)
thrills-rat.zip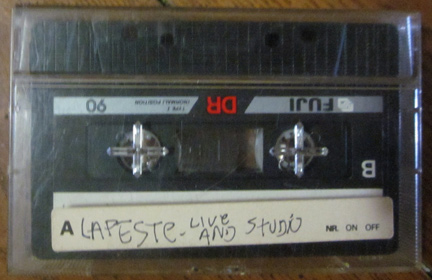 Unnatural Axe Live At Cantones New Years Eve 1979
ua-ne79.zip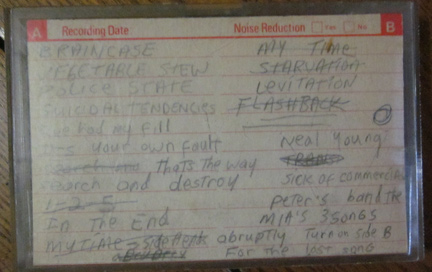 The MIA's 4 Track 3 Song Demo (1979)
mia.zip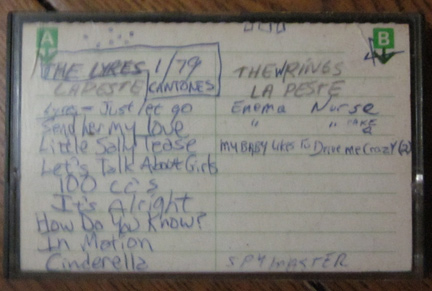 Lyres Live At Cantones Jan.1979
lyres179.zip lyres179.z01

Unnatural Axe Live At Cantones Fall 1978 (no tape cover art)
ua-fall78.zip


The Neighborhoods Battle of the Bands at The Rat 1979
hoods79.zip


Mission of Burma Live At Longwood Theater 1979
mission.zip

Nervous Eaters Live At The Rat 1978 Radio Simulcast
(16BIT CD AUDIO, great live show)
eaters.zip