THE TRANSPLANTS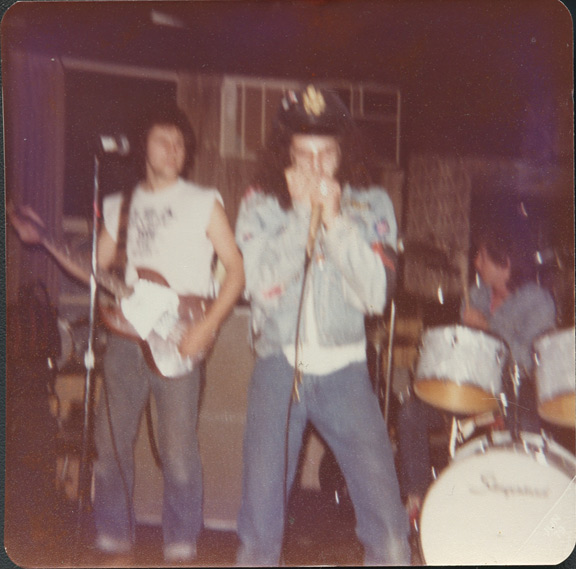 BOSTON 1976 TO 1979
Welcome to the home of The Transplants.the Transplants were Jordan's first Punk Band formed in Boston.A full length vinyl LP has been released.Enter the home of the Transplants here.Click in this paragraph for info on the band,videos,and audio mp3's.The picture shows Jordan on the stage floor with Danny on guitar at the Modern Theatre 1979 on Washington St. in Boston.
There is a full length vinyl LP of The Transplants released by Rave Up Records..They will also be releasing recordings Jordan and his friend Dave Koehler did of the early Boston Punk Rock Scene.Various reel to reel and Pro-Portable cassette recordings were made from 1977 to 1979.These tapes were recorded at Cantones,The Rat,The Club,The Space,and home studio too.Jordan is in the process of restoring these old reels and cassettes using a portable computer running SaDIE 2496 Pro-Audio Card and 3 separate Cedar Audio Restoration Boards.The Pro-Audio Gear is owned by Fraser Jones of Independent Audio here in Maine.Releases are being planned for Thrills,La Peste,and Unnatural Axe.More bands from our Boston Archives maybe in the works later on.Rave Up is a great label dedicated to keeping the old Punk Rock alive.Check out the label for cool releases.
A second LP is coming out on Dionysus Records towards the end of April 2004.The LP is 75 minutes long and features both rare live and home studio tracks recorded in 1978-1979.There is 33 minutes more material than the vinyl release.
You can also visit the best home for old Boston Rock on the Internet.The site is the Dirtywater Museum where you can find tons of info on the Boston Scene.Here is the link for the Transplants Bio.