SERVICES

Lots of services to talk about here.First off is BMH my band.We are always looking for shows within a few hundred miles of Maine.My name is Jordan and I can be reached at 207-780-0193 or P.O.B. 7971, Portland, Maine 04112.If you are in a band and need help in getting a show or radio exposure we can help you out here.Drop us a line or call and we will try and put on a show for you.We can put bands up,give gas money,and a place to play and party with no hassles.You can also head on over to my new website for business at www.goreproductions.com note that most of the content is mirrored here on the BMH site.
Recently Portland held a World Film Festival.Famous Directors,Films,and Awards as well as speakers.It was a great festival and the Katahdin Award given out to Maine Filmakers was Nyarlathotep Directed by Christian Matzke and Edited here at Gore Productions.Audio recording and mixing were done here as well.Gore Productions also provided audio and technical advice.A black and white filmlook was also developed for this picture.
So next on the agenda is my moonlighting work under the name of Gore Productions.I offer a lot of audio,video,and graphic design services.If you are a musician looking to master your audio recording on to CD,DVD or high quality DAT we can do that for you and we can remove hiss,crackle,and distortion from vinyl,tape,or video in real time using the CEDAR AUDIO RESTORATION system.This self contained unit removes unwanted noise in a non-destructive way..I could do a demo for you if interested.Also audio output can be on to a CD,DVD or a small run of 10-20 CD's,etc.Makes it easy for the small band to put their music out DIY style.I also am set up for Graphic Designing.Cover art could be developed here.For more info on the Cedar System you should check out Fraser Jones of INDEPENDENT AUDIO who is the dealer for the CEDAR products.My CEDAR work link is here:More information here on the CEDAR AUDIO work I do under Gore Productions.Just click here for the info.
We also have access to Digidesign Pro Tools TDM System with 24 tracks recording directly into a Macintosh Computer.We are doing Mastering,Sequencing, and Recording.We can master to DAT/,DVD or CD One Offs.Our DAT Deck is capable of 96k Sampling.We are also using a Windows 98 computer with 3 Cedar Audio boards for mastering and restoration work.
We have the power to clean up your old live recordings and archive them to CD or DVD.We can repair some or all damage due to poor recording,tape hiss,and other known artifacts that can destroy a good song.We can also repair artifacts on a single track which could save a great take otherwise destroyed.Drop me an e-mail and I can quote you some prices pertaining to the type of work needed to be done.
We also have a computer video editing suite setup and can either digitize your video or do editing for you.We can output to DVD,Digital Video,VHS,S-VHS,or digitized uncompressed or compressed video downloadable on a private secured FTP Site.We are now doing DVD Authoring as well.Also we can scan your color photos and output to an FTP Site.We have a P4-3ghz with One Gig of DDR2RAM,120 Gigs of UWSCSI320 15,000RPM Drives running Digital Video Capture and a 24BIT Firewire Audio Interface.My editing rates are reasonable especially geared to the artist and musician.Let me know if I can be of assistance with your project.
More information here on the CEDAR AUDIO work I do under Gore Productions.Just click here for the info.
Gore Productions Rates information is here.Check out some of our prices for services we do.
Also be sure to visit or bookmark www.goreproductions.com for all the work under one site.
RACK-MOUNT STUDIO COMPUTER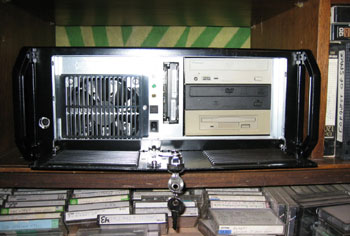 PORTABLE LUNCHBOX CEDAR COMPUTER