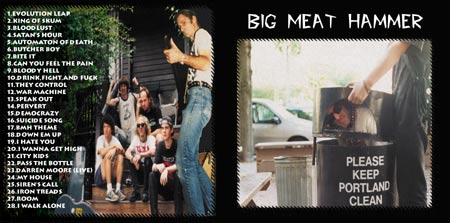 BMH CD Back From Pressing Plant
Hear Skummy Man's BMH CD Promo Message
We recently mailed out the masters to the plant for the BMH 28 Song CD.The CD has since arrived and goes on sale March 22nd.Running time of the CD is 65 minutes so there is much to listen to on our release.Cd's are $10US and $12 postage paid.Overseas Fans will pay more for postage based on shipping rates to your specific country.
You Can order our CD by sending us $12 US to Big Meat Hammer
POB 7971
Portland, Maine 04112
For all Booking and Business write to booking@bigmeathammer.com
Checks/Money Orders to Jordan Kratz.You can also check out our Products Page for other items for sale.Just click here for our Products Page.
The CD Contains songs from our 11 year history including 4 songs from the first studio recording in 1990.It was mastered at Independent Audio using a Pro-Tools Workstation,Cedar Audio Restoration,and other digital processing gear.Fraser Jones and Jordan spent many hours between restoration and mastering to give you the best sound from our archival tapes.Sequencing of the CD was done on Jordan's home workstation using true digital IO to maintain the quality of the audio master.BMH are the longest going Maine Punk Band.You can hear all their requested hits and a few covers as well.Download a few of our mp3's to get a taste of what we sound like.
Here is a Real A/V Clip of us at our CD Release Party covering "I Need Lunch" by The Deadboys
Here are a few Archived Local Reviews of us
The Portland Phoenix Review/Interview us